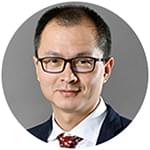 Ahead of his presentation at next week's Food Contact Asia 2021 conference, we reached out to Xiaohui Xia, Head of Business Development, Packaging Papers at UPM Specialty Papers, to learn more about special by nature.
Learn more about what Mr. Yang shared with us below!
Current Industry Focus:
Q. What are the current food contact priorities for you and your business?
Food contact packaging material is our focusing application, either direct contact or after converting which is suitable to replace part of plastic film applications.
Q. What do you consider to be one of the biggest food contact challenges the packaging industry is facing, especially in APAC region?
Packaging paper product is a sustainable alternative to plastic filmic material; however, how packaging paper products can meet end-user demand is the biggest challenge. Customers have high expectations in the paper, especially the paper with barriers applying for long shelf time food packaging. As for Oxygen Transmit Rate (OTR) and Water Vapor Transmit Rate (WVTR) requirements, barrier paper is still not as good as multilayers flexible packaging materials. Seeking the right paper with the right barrier combination for the right food application takes time, it needs cooperation in the packaging value chain, including base paper, barrier supplier, coating and printing converter, and packer.
Future Focus:
Q. What are the most important changes in the food contact landscape you are seeing?
Food safety and sustainability of packaging materials.
Q. What regulatory changes do you anticipate seeing in the future?
To reduce the impact on the environment, sustainable development has become an important driving factor in the future. As a responsible supplier, we free customers from fossil materials and help them reach their sustainability goals by creating fiber-based packaging solutions from responsibly managed forests. Explore our renewable alternatives for all packaging needs, to protect food products and maximize shelf-appeal.
Q. How can you ensure you stay compliant with the latest food contact regulations and best practice?
We have complied the food safety management system strictly with latest food contact regulations. Our production line achieved FSSC 22000 and ISO 22000 food safety management system, complied with EU framework regulation(EC) 1935/2004, BfR and FDA, GB9685 and GB4806.8 Chinese National Food Safety Standard, and we will continue monitoring and follow the food contact regulation.
Conference Related:
Q. Could you please give us a quick sneak peek of what we can expect to hear during your presentation? Why is it important for others in your industry to hear this message?
Paper can be one of the most sustainable alternatives to replace plastic in many packaging applications. Improving packaging paper performance through packaging value chain cooperation can support plastic reduction in many applications. As a responsible paper supplier, we provide alternatives complying with the strictest regulation for different packaging needs. The needs can be directly related to food contact or further converted with functional barriers applying along the value chains. Our alternatives can better protect food products and improve shelf appeal for our clients.
Q. What are you most looking forward to at Food Contact Asia?
We are looking forward to sharing our view on how to develop packaging paper and the applications for plastic reduction.